Our Thank You's
We just want to take this moment to thank.........
Elise's father for helping with this very site(a little) and our wonderful boss, Kathryn. She has made us go further than far as a kind boss and best friend. And, we would like to thank.......
Lucky, for inspiring us all!!!!!!!
Our Employees
Our employees are all very quick with thier hands. Here are all of our jobs: Kat is President and she mainly makes gecko's. Elise is Vice President and she's in charge of making gecko accessories. Annie is Secretary and she keeps all of the money at her house. She makes gecko accesories as well. Eliza is sales organizer.And last, but DEFINITELY not least, Brianna and Samantha are Designers. They design everything imaginable and not imaginable!
We are all in 5th grade and it's hard to have after-school business meetings.So, we have them in school! Yes, we have business meetings at recess. And boy, it saves us homework time!
And this is our secret for the best gecko's is that we really care and that all of our employees are...... FRIENDS!
This is our boss, Kathryn, at recess in school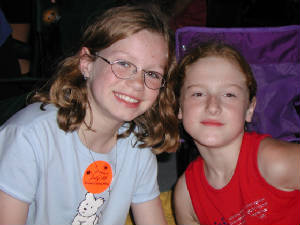 Annie is sitting right of Elise. This picture was taken on the 4th of July.