5/16/04
We have quite a recipe to share, we tried it ourselves! Here's how to make gecko doughnuts, email us for a printible version:
ingrredients:
chocolate chips
sprinkes
cherios (tm)
First, melt the chocolate chips in the microwave for about 2 minutes and 30 seconds. Stir it up with a spoon, and smother it on a plate. Making sure your hands are clean, dip one or both sides in the chocolate and dip them in sprinkes. Then, you might want to put the plate of the doughnuts in the freezer to freeze the chocolate. After about a half hour, dig in! Here are some pictures of Elise and Annie makeing and eating the doughnuts; Lucky too!
-Elise
These are the doughnuts, don't they look good!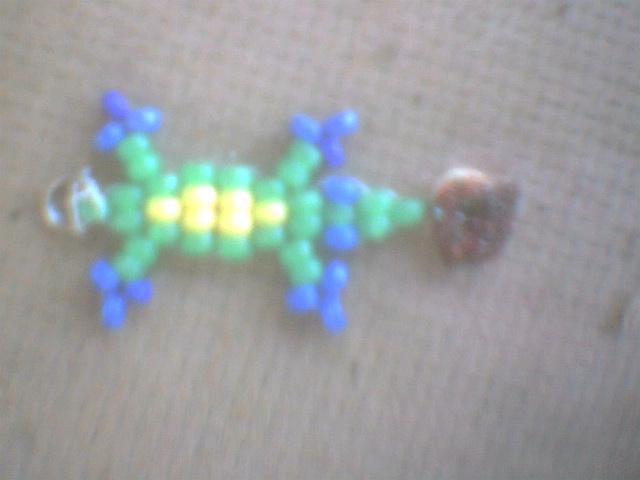 This is Lucky, diggin' in!
6/1/04 Hello, everyone! We just wanted to post that Elise got a 15 foot trampoline and that Lucky is now really a leapin' lizard! And we just added a new page, pictures, which will have pictures of employees and other geckos.
-Elise
6/10/04 Ok, everyone! Exciting news! June marks the one year anniversary for Leapin' Lizards! And to celebrate this very special event, we have created a new size that is tinier than tiny! It is tweeny, and it's increadibly cute! Here are some pictures of Elise's tweeny gecko. Kathryn has a tweeny as well.
If you want a tweeny, though, you might have to order it soon, for tweeny's are for the month of June ONLY. That's right, they're Limited Edition and will last until July 1, 2004. Also, the monthly special really needed to be updated, and since it's our one year anniversary, and Luck brought the company together, Lucky, without the extra $0.05, is the monthly special!
-Elise
This is the Limited Edition sandwiched between Lucky and a tiny gecko;Fire(she's Elise's)